In today's world, newsletter still have a great part in our communications between colleagues, companies, and consumers. As of 2020, Statista confirmed that over 4 billion email users total were registered. This number is determined to increase by 2 to 3% annually. Thus, making email newletter campaigns one of the best ways to bring companies directly to the customer.
Although its usage is widespread, starting a newsletter can be quite the challenge. According to Smart Insights, less than half of marketers say their email campaigns were successful. This success is often measured by the number of consumers that act upon the reception of the newsletter. To accomplish this, email marketing campaigns are often programmed with very complex and expensive tools.
Luckily, I have the perfect tool to elevate your newsletters, PHPList! It is easy to use, free, and can be completely automated. Since helping you is my mission, I will discuss why you should install PHPList and how to install it. I will also teach you how to send your first campaign in a matter of minutes!
When it comes to communicating with customers, email newsletters are definitely your best option. If your site is not built using a CMS like WordPress, it is difficult to find an efficient way of sending your newsletter. PHPList can help your newsletters, while we provide its best practices. Don't worry, it is very simple to set up! Best case scenario, it will even be fully automated! On the other hand, here are a few things we need to watch out for.
SPF and DKIM Records
In good practice, these should be added to your DNS zone. These records authenticate the usage of your domain, and who can send emails using it. An incorrect SPF record or DKIM record could cause your domain or server to be blacklisted in the long run. Often times, mailing systems will require these. In our case, PHPList will be installed on the same server you are hosting with us! Hence, the current server's IP address is all that is needed in the SPF record. The DKIM can be generated from your control panel.
Resource Usage
Sending emails can require a lot of resources from your server, like processors and memory. However, shared servers do not have unlimited resources to allocate. The best way to prevent overusing these resources is by spreading out the sending process. Fortunately, PHPList offers this function by sending emails in the amount of your choosing.
All-in-all, watching out for these common issues will boost your domain's reputation. Other email providers will also be encouraged to let your emails go through. To prevent any short-term or long-term issues from happening, I always recommend using a direct mail system, like PHPList. You will save time and effort, while boosting your sales and views without waiting on your clients to come to you.
Using a direct mail system is the safest and fastest way to send newsletters or advertisements to your subscribers. Imagine sending a certain amount of emails per hour to your subscriber list without any surveillance needed! Your subscribers will even be able to manage their own mailing preferences by using your subscribe page.
Hopefully, this explanation provided some insight for the most common questions. Now, you can finally install PHPList and start sending your email campaigns the right way!
First, login to your cPanel and find the "Softaculous Apps Installer" tab. Softaculous is a great tool which contains hundreds of free scripts that can be installed in one click.
Using Softaculous, you will be able to find and install PHPList directly in your control panel. Simply type "PHPList" in the search bar at the top left and select it. Then, you may click on "Install".
This will directly create your account as well as the directory for PHPList. The username and password are provided at the bottom right of the page.
Once you have noted or modified the information to your liking, click "Install" at the bottom of the page. The administrative URL will be provided afterwards. It should be: https://yourdomain.com/phplist/admin.
Now that we successfully installed the mailing system, let's focus on your recipients.
Adding Subscribers (to Lists)
If you already have subscribers, you can import them to your database in "Subscribers" then "Import subscribers". There are three methods to do so in PHPList.
While doing so, you can select the list you wish for them to be categorized in. By default, you will already have 2 lists: Test and Newsletter. Once you have imported the email addresses, the system will verify if they are already in your database. One of the best features of this mailing system is that the email addresses won't be added twice. So, don't worry about verifying all of your mailing list. You will be notified when anything has been added or modified.
It is possible to assign a list after the subscribers have been imported. It can easily be done in the "Subscribers" then "Subscriber lists" section. By clicking on the "+" under your desired list, you will be able to paste all the email addresses that need to be added.
Sending your Campaign
Now that our subscribers are settled, let's send your first email campaign! Let's go to the "Campaigns" then "Send a campaign" section. If you do not already have a campaign, it will automatically create a new one.
The easy part is determining the content of your message and the subject. When composing your message, feel free to use basic placeholders offered in the question mark next to "Compose message". These will be useful to personalize your newsletter according to each subscriber.
Once you have written the subject and message, select the "Save and continue editing" button. Then, you can skip the second step, "Format", and go to the third, "Scheduling". This is the best part of PHPList, being able to schedule the sending time of your email campaign. Once you have completed the schedule, click the "Save and continue editing" button once more.
The next step is "Lists". Here you can select the appropriate subscriber list to send to and save.
In the final step, you can enter your email to receive the newsletter completion notification. Save your modification and click the "Place Campaign in Queue for Sending" button.
Last but not least, a final button will appear to process the queue. Clicking it will officially send to newsletter to your selected subscribers.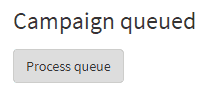 Congratulations, your newsletter has been sent!
You finally sent an email campaign! Yes, it was that simple. Not only will your subscribers be happy, but your domain reputation and email service will thank you.
Want to learn more about PHPList? Visit their manual here for more options and explanations!